The existential threat of climate change is being spelled out to New Yorkers via a selection of flashing highway signs that have been placed around the city.
The 10 large solar-powered signs have been placed in locations in each of New York's five boroughs, including areas deemed particularly vulnerable to the sea level rise and powerful storms associated with climate change, including the Rockaways in Queens and the west side of Manhattan.
Messages such as "Climate change at work" and "Climate denial kills" will be displayed in English, as well as in languages commonly spoken in the areas they will be deployed, such as Spanish, Russian and French.
The signs are part of a project by the Climate Museum and a host of partners, including the New York City's mayor's office. The installation, called Climate Signals, has been done by Justin Brice Guariglia, an artist who regularly focuses on environmental themes in his work.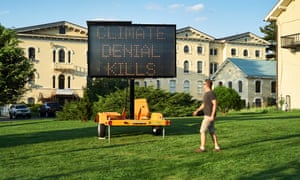 "These signs sound a warning about the climate crisis and they call us to think and act on the issue," said Miranda Massie, director of the Climate Museum. "When you see a flashing traffic signal your initial response is that there are uncertain conditions ahead, and that is exactly what climate change is. This is the perfect medium for bringing up this alert."
Some of the sites will include elements such as voter registration and appearances by climate scientists. Massie said the work is not overtly activist in nature, despite the unfolding agenda of Donald Trump, a native of Queens, to dismiss the science of climate change and dismantle policies that reduce greenhouse gas emissions.
"Anyone who is aware of the climate crisis is appalled and alarmed by the disgraceful assault by the administration on climate progress," she said. "But this project isn't political in a narrow sense, it's about social and cultural action. We need a social shift to deal with climate change. It shouldn't be a political lightning rod."
Daniel Zarrilli, New York City's chief resilience officer, said: "Climate change is one of New York City's greatest challenges and requires creative approaches to educate and engage all of us about its risks and solutions. Art can play a valuable role in this effort."