Australia's relationship with the Pacific region on the issue of climate change has been described as "dysfunctional" and "abusive" – providing aid to the region to deal with the effects of global warming but undermining attempts to halt its progress, according to a climate change representative for the Pacific nation of Palau.
Xavier Matsutaro, the national climate change coordinator for Palau, a small nation in the north-west Pacific, said Australia's relationship with the Pacific was "dysfunctional", adding that Australia was also responsible for diluting the strength of previous regional declarations on climate change.
"Australia is a bit of an anomaly, because on the floor [of climate summits] they're basically sometimes as far right as Trump in some of their views on climate change, at one point they even denied that it existed … But then on a regional basis they've actually given a lot of support to our region," said Matsutaro.
"Sometimes the way I think about it ... it's like you're in a relationship and you get abused by your spouse but at the same time they feed you and clothe you and things like that," he said. "You could say it's a bit of a dysfunctional relationship."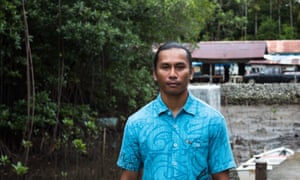 Matsutaro spoke to the Guardian in Palau a week before leaders, including Palau's minister of state Faustina Rehuher-Marugg, met in Nauru at the Pacific Islands Forum, where climate change was a key issue discussed by the group.
Leaders are set to sign a new security agreement that labels climate change as the "greatest threat" to the Pacific region. Citizens of the region have been among the first to feel the effects of climate change, with rising sea levels and increased natural disasters in the region.
The summit comes at an awkward time for Australia, as the new prime minister, Scott Morrison, faces pressure from some members of his party to abandon Australia's commitment to reducing emissions under the Paris agreement.
Matsutaro said Australia, which has historically been the key aid partner for the Pacific region, had supported projects in Palau related to climate change, including a coastal erosion project and research on coral bleaching. Australia even provided research on the impact of climate change on Palau which formed the basis for a section of Palau's climate change policy.

But when it came time to make commitments on climate change, Matsutaro, who has attended COP meetings on Palau's behalf for the last five years, said Australia was regularly out of sync with the rest of the region, and was responsible for diluting the strength of resolutions on the environment.
"They're responsible for making our declarations weaker sometimes in the region. So there's been forums that were formulated so [Australia] won't be involved in it, they're not members, so that whatever language that really reflects our views and our circumstances is actually reflected in the declaration," he said.
Pacific leaders have called for Australia to do more to reduce emissions and act to curb the effects of climate change.
Last week in a blistering speech in Sydney, the Samoan prime minister called climate change an "existential threat ... for all our Pacific family" and said that any world leader who denied climate change's existence should be taken to a mental hospital.
The prime minister of Fiji, Frank Bainimarama, who has opted to travel to Bangkok for an extra session of the COP23 climate change negotiations instead of attending the Pacific Islands Forum, excoriated global leaders for their inaction on climate change, saying leaders had promised much but delivered little.
"If all the noble intentions of all the good people who have built this process since 1992 could be converted to clean energy, we could resolve the crisis now. But intentions are not actions."
He said history would condemn leaders who failed to properly address the impacts of climate change.
"Would any of us like to return to our people and tell them that we had the chance to do something truly great and truly necessary for the world we will pass to our children, but we lacked the will to get it done?"