In America today, it's rare to see political leaders respond to a threat with an appropriate evidence-based policy solution. At the national level, more often we see actions that aggravate existing problems or create new ones. California – the country's most populous and economically powerful state – has been a welcome exception.
California has been battered by extreme weather intensified by climate change. From 2012 to 2016 the state was scorched by its worst drought in over a millennium. Weather whiplash struck in 2017, when much of the state broke precipitation records. This combination led to devastating mudslides and created the conditions for the most destructive and costly wildfire season on record in 2017, followed by the state's largest-ever wildfire in 2018, which broke the previous record (set in 2017) by more than 60%.
All of these impacts have been exacerbated by global warming. The past five years have been California's five hottest on record. And so, the state's leaders decided to do something about it. California had already set a renewable portfolio standard in 2002, strengthened by Governor Arnold Schwarzenegger's 2008 executive order requiring that 33% of electricity be generated by renewable sources by 2020. Governor Jerry Brown signed Senate Bill (SB) 350 in 2015, expanding the requirement to 50% renewables by 2030.

Last week, California state lawmakers passed State Senator (and candidate for US Senate) Kevin de León's SB 100, which amps up the target to 50% renewables by 2026, 60% by 2030, and 100% from "renewable energy resources and zero-carbon resources" by 2045.
The more aggressive clean energy targets are justified. Not only does California need to make up some of the climate slack created by the Trump administration, but the state is now ahead of its targets, with 29% of electricity last year generated from renewables and over 50% from zero-carbon sources (including nuclear and hydroelectric power).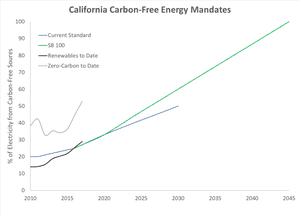 Smart leaders are responding to climate change impacts
According to the latest California Climate Change Assessment Report, global warming impacts will continue to batter the state:
The water supply from snowpack is expected to decline two-thirds by 2050
Heatwaves in cities could cause 2–3 times more deaths by 2050
The average area burned annually by wildfires will increase by as much as 77% by 2100
31–67% of Southern California beaches may completely erode by 2100 without large-scale human interventions
$17.9 billion worth of residential and commercial buildings could be inundated statewide by sea level rise by 2050
Kevin de León specifically cited the record-breaking wildfires as a key factor in generating the votes to pass SB 100, which had been under debate for nearly two years.
Similarly, with its air badly polluted by smoke from wildfires, the Spokane, Washington City Council approved an ordinance setting a goal to get 100% renewable electricity by 2030. And after being struck by Hurricane Harvey in 2017, an increasing number of Houston-area residents accept human-caused global warming (64%) and are concerned about its impacts (52%).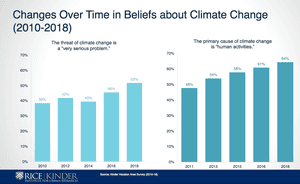 It's hard to deny the reality and adverse impacts of human-caused climate change when they're hitting people at home.
California has long been a leader in climate solutions. The state is home to nearly half of all electric vehicles in the country (over 350,000), with by far the highest per-capita EV ownership of any state. California uses the least electricity per capita of any state, has a carbon cap and trade system, and a thriving economy.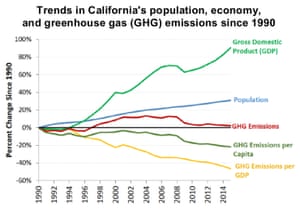 California is also leading the way in fighting the Trump administration's backwards climate policy rollback. Next week, the state will even host a Global Climate Action Summit.

Unfortunately, a new study found that while local climate action like California's is important, it's insufficient to make up for the Trump administration's inaction. To achieve the needed cuts in carbon pollution, federal policy is needed. That means replacing the current Republican leadership and its platform of climate denial with a Democratic leadership like California's.