Climate shocks such as droughts, floods and variable rainfall, are already causing a rise in hunger, a situation UN economists describe as an "early warning call" for action on food insecurity.
In 2017, the number of chronically hungry people in the world reached 821 million – one in every nine – according to the state of food insecurity and nutrition in 2017, a report produced by five UN agencies. The number who suffer from hunger has grown over the last three years, returning to levels from almost a decade ago.
Climate extremes and variability, affecting rainfall patterns and agricultural seasons, are among the key drivers of this rise and one of the leading causes of a severe food crisis, together with conflict. Climate-related hunger is also being seen in countries with no conflict or economic issues, the report found, with climate change undermining food availability, access, utilisation and stability.
"What is alarming about this analysis is that climate variability and climate extremes now are contributing to the rise in hunger", said Cindy Holleman, a senior economist at the Food and Agriculture Organisation (FAO) and editor of the report. "Not just emergency levels of hunger, but chronic hunger."
"We see this report as an early warning call that we need to accelerate and scale up climate resilience especially in countries in Africa and Latin America that are most vulnerable."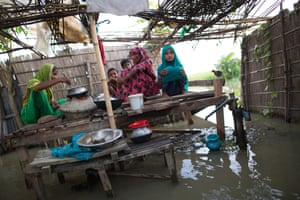 The prevalence and numbers of undernourished people is higher in countries with agricultural systems that are highly sensitive to rainfall, temperature variability and severe drought, and where the livelihood of a high proportion of the population depends on agriculture.
Holleman said temperatures were more variable in agricultural areas, with more hot days and rising temperatures affecting yields. Rainfall patterns were also changing, with seasons early or delayed in 51 low and middle-income countries.
Climate-related disasters, such as storms, floods and droughts have doubled in the past 20 years, which impacted food production, she said. Climate changes were already undermining production of wheat, rice and maize in tropical and temperate regions and the situation could worsen unless climate resistance was built in.
"This is the beginning of a very serious situation. We have a target to end hunger by 2030, and we are not going to do that unless we are going to tackle new challenges and the new challenges are climate extremes and variability."
The situation is worsening in South America and most regions of Africa, the report found. In Asia, the declining rate in undernourishment seen in recent years has slowed.
One UN expert said the speed at which climate shocks had already translated into hunger over 2017 demonstrated how precarious food security was in developing countries.
Alexander Jones, the head of climate and environment division at the FAO, said: "We can see the links between increasing numbers of hungry people and climate extremes and variables. What is scary is the speed the impact has cropped up, the speed at which climate variability and extremes is translating into big numbers. It is happening now. It shows how narrow the food security band is."
It was "extremely likely" that global warming was behind the climate shocks, although this was beyond the scope of the report, Jones said.
While a farmer in Germany who lost crops due to the recent high temperatures in northern Europe, for instance, could seek compensation or a bank loan, few such buffers were available to the world's 2.5 billion small scale farmers.
In 2017, almost 124 million people across 51 countries and territories faced "crisis" levels of acute food insecurity or worse, and required humanitarian assistance, the report found. In 34 of these countries, more than 76% of the total populations facing crisis levels of acute food insecurity or worse – nearly 95 million people – were also affected by climate shocks and extremes.
Some 36% of countries were exposed to three or more types of climate extremes in 2011-2016, compared to 18% in 1996-2000.
Climate-related disasters now account for 80% of all major internationally reported disasters, the report found. Severe droughts linked to the strong El Niño affected many countries, and contributed to the rise in hunger, it said.
A foreward to the report called for climate change adaptation and disaster risk management to be integrated into national and local government programmes and for better incorporation of climate change effects into policies governing food, agriculture, health and the environment.
The report also found poor progress was being made in addressing the multiple forms of malnutrition, ranging from child stunting to adult obesity. Progress has been made on reducing child stunting – nearly 151 million children under five, or 22%, were too short for their age in 2017, down from 25% in 2012 – due mainly to progress in Asia. Over 38 million children under five are overweight.